CDs / Music
It may come as a surprise, but I didn't start out by just writing books and producing "How to" DVDs for Cigar Box Guitars. I used to play guitar too!
Also, available are CDs from Justin Johnson who played all of the relics in The Cigar Box Guitar Museum. It's amazing what they sound like and I'm still blown away when I hear them.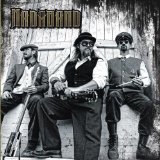 Nadaband

$9.99
What does a cigar box guitar sound like? We get asked that question a lot. Here are 5 answers to that question performed by Jehle with his Cigar Box Guitar based group, Nadaband.