The Cigar Box Guitar Museum...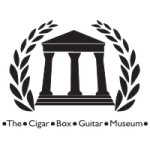 The Cigar Box Guitar Museum is a private collection gathered for the study of the underwritten topic of cigar box guitars.  Ironically, it came from my own experience to combine my favorite instruments into a single perfect guitar that ultimately made me appreciate a cigar box guitar for their simplicity, individual quirks, and imperfections.
Currently with over 100 instruments in the collection and growing, the Cigar Box Guitar Museum will (eventually) become an online exhibit as well as a public display for folks to inspect, to get inspired from, and to hear. Meanwhile, I am promoting the cigar box guitar as both a way for the novice to learn and for the experienced to shrug off years of convention.
For a more complete history, read a copy of One Man's Trash: A History of the Cigar Box Guitar from Amazon for the first complete historical account of these humble instruments!
Violins

 Read More 

Ukuleles

 Read More 


Banjos


 Read More 


Guitars


 Read More 


Ephemera


 Read More