Cigar Box Guitars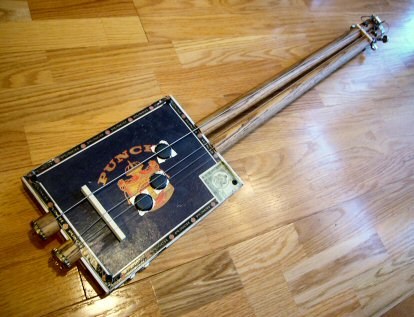 Cigar Box Guitars make up the largest part of the collection, spanning from the 1920's to the present day. 
Some are toys for children to "play" guitar. Some are serious instruments made when a guitar was wanted, but means prevented their purchase. 
My favorites in the collection include:
* a 4-string cigar box guitar that belonged to Rick Springfield (complete with supporting documentation and photos), 
* a 4-string Purgatory Hillharp, pictured here, created by legendary John Lowe that uses sewing machine bobbins, beer caps, inner tubes, oak dowels, and pipe clamps to create the most distinctive looking and sounding cigar box guitar today, and 
* a 4-string guitar made by Jim Ferris and Phil Eggers made from scratch complete with hand-wound pickups made with the help of an electric screwdriver.