Cigar Box Ukuleles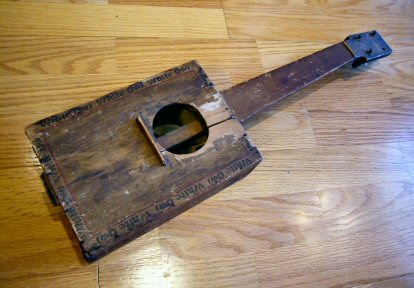 Cigar Box Ukuleles came into fashion around the turn of the 19th to 20th century. 
The Ukulele was "invented," according to legend, by Manuel Nunes in 1879. Sam Kamaka (dubiously) apprenticed under Nunes. As the Kamaka family business flourished, Sam Kamaka, Jr created Ukuleles from 12 cigar boxes starting in the 1960's. "He liked to experiment," says his brother Frank Kamaka. 
The Cigar Box Guitar Musuem owns one of the 12 infamous cigar box ukuleles made by Sam Kamaka, Jr. It is probably the single most wonderful instrument in the collection - made by an absolute master. 
Beyond the Kamaka, there about 6 examples of cigar box Ukuleles, and vintage plans that date back as far as 1919 that demonstrate how to make one.  Ironically, the first mention of a "cigar box guitar" comes from these plans which claims that "the cigar box guitar is a thing of the past"