Ephemera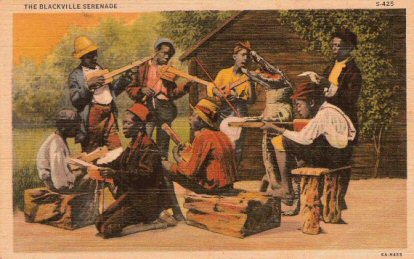 Ephemera for the cigar box guitar include the Civil War etching and the vintage plans that I've already mentioned. 
The Cigar Box Guitar Museum owns many, many original artifacts (too many to list here), and some of my favorites include:
* a set of  Victorian era real-picture-postcards (racist by today's standards) that show black boys singing and playing a cigar box guitar, 
* Depression era and WWII photographs that show people playing cigar box instruments, and 
* magazines and books from the 1940's through the 1970's with more plans to make cigar box instruments. 
My favorite text is an original copy of "Creative Music For Children" from 1922 where the cigar box violin and banjo are the focus of teaching music to children. In this book a program for a music recital which states the makers names, their cigar box instruments, and the songs that they played.