Kevin Craig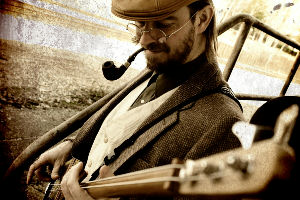 "Jack of all trades, master of none." That's me. I've been a musical dabbler / dilettante for over 25 years, learning to play a variety of instruments and styles with different degrees of success and competence, but never concentrating and practicing enough to become really good at any of them. It's still been a blast, and I plan to continue dividing my attention as long as I can.
As a brief survey, over the last 2.5 decades, I have:
played drums/percussion in: six seasons of marching band and seven of concert band during middle and high school, four metal bands, one Beta Club skit at a state convention, one classic rock cover band, one coffee shop jazz combo, one alternative rock band, and various other one-off jam sessions/gigs.
played bass guitar on stage and in practice with six different bands in at least the following genres: alternative rock, death/black/doom metal, classic rock, progressive rock, blues, punk, funk, surf, and rockabilly.
accompanied a friend of mine on acoustic guitar onstage for a university choral department's fundraising Cabaret.
played bluegrass, country, gospel, and early rock on the upright bass with my dad, uncles, and some other folks at a few retirement home gigs, family reunions, and other get-togethers.
played keyboards at a few jam sessions, but not on stage (yet).
sung along with the Rock Band video game series, and sung backup on a couple of songs on stage, but have not sung solo on stage (yet).
composed and arranged dozens of electronic songs for my own amusement and for an annual online challenge, but have not exposed them to much scrutiny nor "performed" them in public (yet).
received radio and TV airplay for a few songs (both covers and originals).
My current roster of instruments and other music-related devices includes:
Basses: 1 upright, 1 fretted 5-string, 1 fretted 4-string, 1 fretless 4-string cigar box bass, 1 2-string shovel-handle cigar box bass.
Guitars: 3 electric 6-strings, 2 acoustic 6-strings, 1 6-string electric baritone guitar.
Drums: 1 Pearl Export kit split into 2 smaller kits, 1 djembe, 1 pair of bongos, 1 set of Roto-Toms, and a collection of various other percussion instruments.
Banjo: the Harmony banjo that my dad bought when he got out of the Army in 1968.
Electronics: 2 drum machines, 2 keyboards (1 cheap Yamaha and 1 ancient Casio), various amplifiers and mixers, various hand-held and multitrack recorders, and various pieces of computer software.
All of those instruments have been played live on stage, played during jam sessions, or recorded for various projects (with the possible exception of the Casio keyboard, but there are imminent plans for it).
I intend to continue this multifarious trend as long as I can.